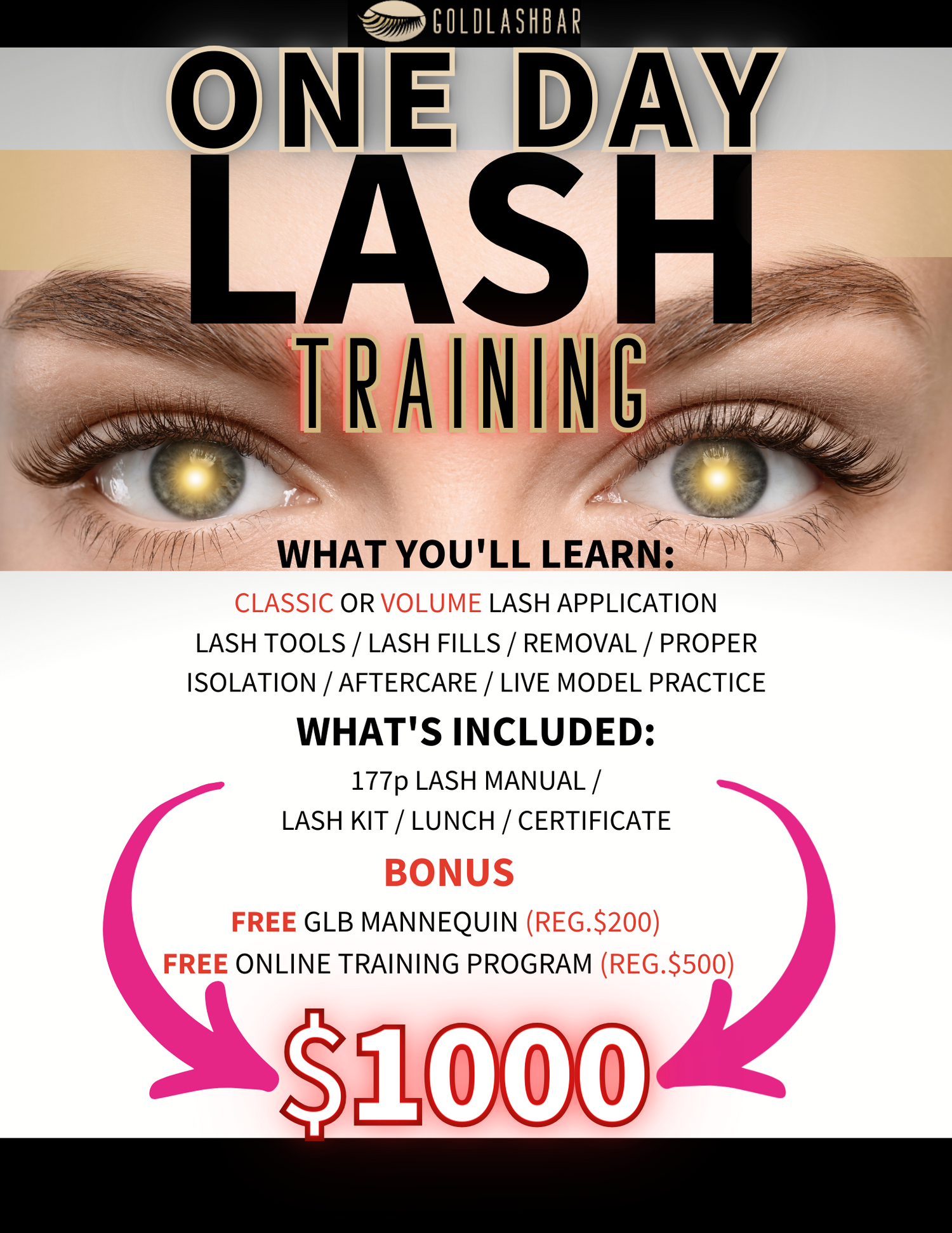 LASH TRAINING
Need Extra Income? Wanna Work Home? Start Your Lash Career TODAY! Learn Eyelash Extensions from the Absolute BEST Lash Artist in Town. Rach will Teach You How to Become the Lash Artist, A Skill that can Feed You For LIFE! & YES, in ONE DAY! 100% Satisfaction Guaranteed!
Register Now >>
WHICH APPLICATION SHOULD I CHOOSE?
IS LASH TRAINING WORTH IT?
***Disclaimer*** Individual results may vary. The amount of effort you put in has a direct effect on the probability of your success. We provide the training, tools and support system to help you reach your goals.
WHAT TO KNOW AS A LASH ARTIST?
WHAT'S INCLUDED IN THIS LASH TRAINING?
👇 LIMITED TIME BONUS👇
SO..WHO IS "RACH" ?
WHAT IF I WANT TO TAKE BOTH TRAINING?
CHOOSE YOUR TRAINING HERE 👇
CLASSIC

If you are looking to get your very first lash certification, Choose Classic Lash Application.

Register here

VOLUME

If you already have your Classic Lash Certificate, Choose Volume Lash Application. You'll also learn Hybrid Volume Application as a bonus.

Register here

CLASSIC AND VOLUME

If you are looking to get BOTH Certificate by Rach K. Choose this training. You'll discuss the second day training with Rach directly.

Register here
Lash Student's Actual Work
Lash Student Reviews
Lash Certificate
At the End of Lash Training, You will Receive an Actual Lash Certificate You Can Show Off & Prove Your Clients that YOU ARE A REAL DEAL :)
Register NOW >>
Top 5 Most Asked Questions about Starting Lash Business
How long does it take to become good at lashing?

Becoming a skilled lash artist is achieved through consistent practice. Daily practice is crucial to honing your skills, but, on average, it takes approximately 3 to 6 months before you can confidently label yourself as a proficient lash artist.
Do I need any beauty license to operate a lash business?

Currently if you are in BC, Canada, No license is required. Our One Day Lash Training & Certificate is all you need to start lashing!
Is starting a lash business worth it?

Starting any business isn't easy, but it can be one of the most rewarding things you ever do. You have the opportunity to be your own boss, set your own schedule, working as little as 2 hours a day, and you can work from home if you don't like to commute.
How profitable is a lash business?

The profitability of a lash business can fluctuate depending on various factors such as location, competition, marketing strategies, and the quality of services provided. Nevertheless, it is often considered one of the best investments due to the relatively quick acquisition of skills.
Is there any lash course that teaches me how to kick-start a home lash business?

Yes, we offer a 2-Day Lash Training where you can also receive FREE Home Studio Secrets. Rach, your instructor, will guide you on how to set up a seamless lash business operation, allowing you to focus solely on delivering excellent lash services.
CHOOSE YOUR TRAINING HERE 👇
CLASSIC

If you are looking to get your very first lash certification, Choose Classic Lash Application.

Register here

VOLUME

If you already have your Classic Lash Certificate, Choose Volume Lash Application. You'll also learn Hybrid Volume Application as a bonus.

Register here

CLASSIC AND VOLUME

If you are looking to get BOTH Certificate by Rach K. Choose this training. You'll discuss the second day training with Rach directly.

Register here